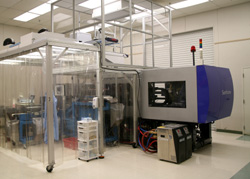 Sun Star provides precision molded components across the range of commercially available thermoplastic materials, including high temperature compounds and fluoropolymers. Oil heated molds are used where necessary to insure the optimum material structure and characteristics are achieved for the application.
Contact Sun Star today
To discuss a cost effective solution for your product development and outsourcing requirements, please Contact Chris Chapman at Chris@SunStar-Inc.com or via phone at 724-537-5990.
FAX: 724-537-7290.


Plastic Injection Molding Gallery